LOST AND FOUND
Lambeth Council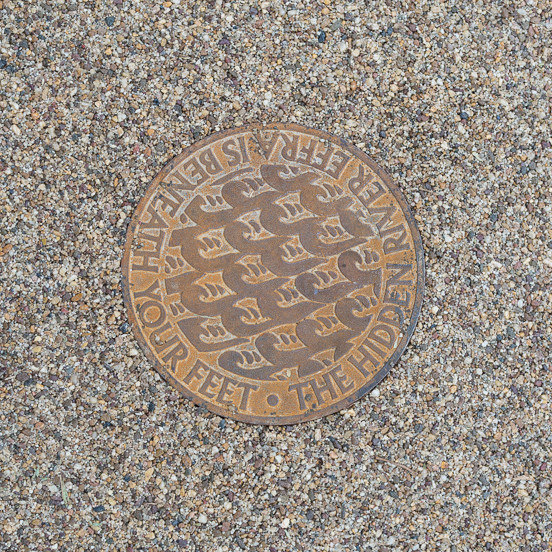 Ever heard of the River Effra? It's a hidden river flowing through a series of subterranean passages and many Londoners are unaware that it exists. This tributary to the Thames rises in the quiet south London suburb of Upper Norwood and joins the Thames inconspicuously 12 miles further at Vauxhall — quite fittingly for a hidden river, right beside the headquarters of the British Secret Intelligence Service, MI6.

The Effra hasn't always been buried underground. Some say that King Canute sailed up the river as far as Brixton during the Danish conquest of 1016. Less plausible is the rumour that Queen Elizabeth I travelled even further up river to visit Edward Alleyn, the well-known Shakespearian actor who lived in Dulwich. The 19th-century painter John Ruskin grew up close to the Effra at Herne Hill and it was the subject of one of his first serious sketching attempts. Nevertheless, he described the river there as no more than a 'tadpole-haunted ditch'.

By the 1850s, the waterway had been turned into an underground sewer and had vanished from contemporary maps. Today, there is little evidence to suggest that there once was a watery spine running through the back gardens and busy streets of these densely populated communities. However, if you care to undertake some detective work you can still track the old route of the Effra. Some streets still hold names that indicate their original proximity to the river: Ullswater Road, Deerbrook Road, Brockwell Park Gardens, Brixton Water Lane, Effra Parade, Stockwell Road, and so on. A more conspicuous giveaway are the infrequent, extremely tall Victorian 'stink pipes' or ventilation poles, that release bad odour from the river high above the streets.
At Atelier, we are very interested in working with our councils to develop projects that enrich the local environment. As well as designing its new street signs, we have worked closely with the London Borough of Lambeth on streetscape improvements. Our contributions aim to bring local history alive, making connections with residents and, we hope, engendering local pride. The more engaged and appreciative residents are, the more they will want to take care of their area.

As part of a long-term and borough-wide urban streetscape renewal program, Lambeth approached Atelier to develop pavement plaques marking the course of the hidden River Effra. Leaping to our local history books, we were taken by the Celtic origin of its name: 'Yfrid', meaning 'torrent'. While Ruskin thought of his part of the river as nothing more than a ditch, it struck us that if we were to take a walk along the banks of an exposed Effra, we would see a constant change of water flow, with different patterns, swells and turbulence.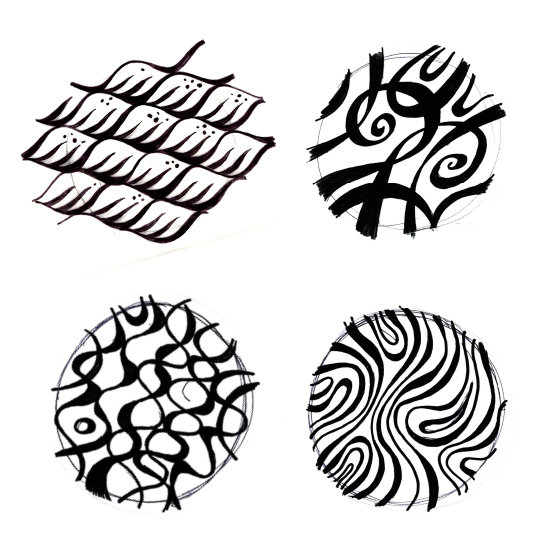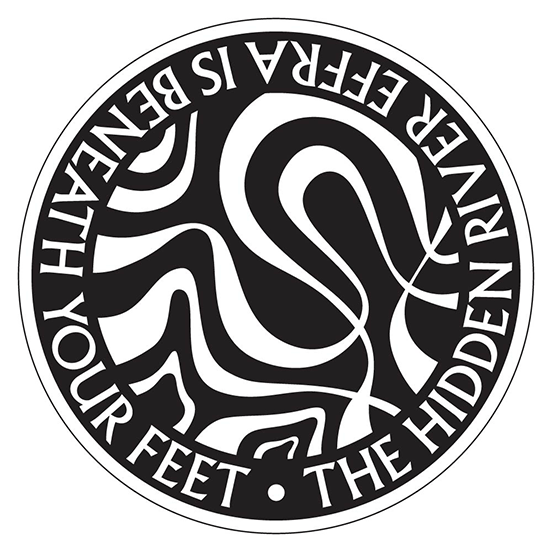 We commissioned Faranak, a Lambeth artist to create different representations of flowing water. She drew placid backwaters, wind-rippled waters, Hockney-esque pools, swirling surges, flowing currents and choppy waves.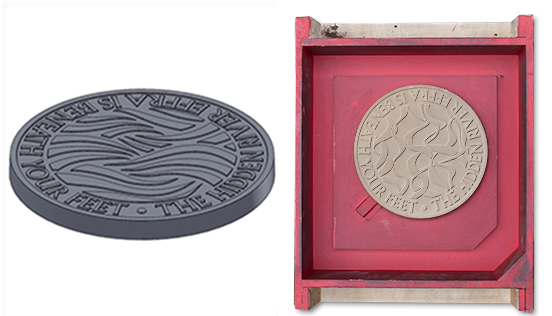 The process of making these plaques married modern digital design with traditional manufacture. We used the imaginative drawings to create digital artwork, which was translated into a 3D prototype. This was then used to create a traditional sand-cast mould from which a finished cast-iron plaque was made. Each plaque is 30cm in diameter and weighs 15kg. Four sturdy bolts ensure that they are held securely when set into the pavement.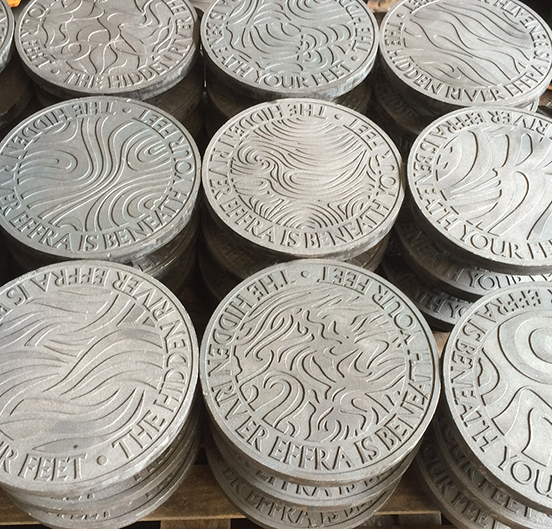 Faranak's prolific output of water sketches provided us with scope to cast more than just the one plaque and Lambeth now holds a stock of more than a dozen different designs.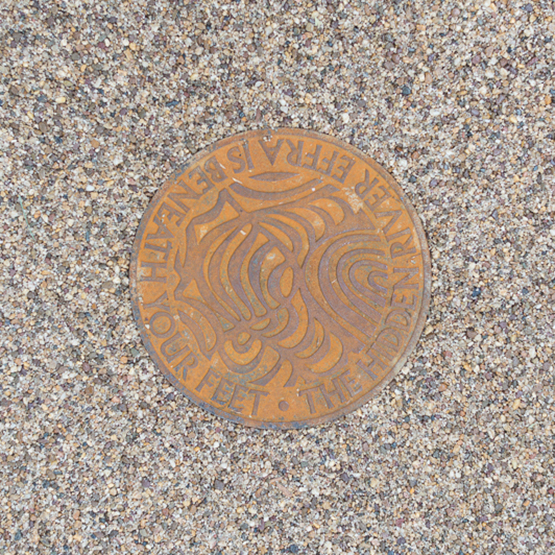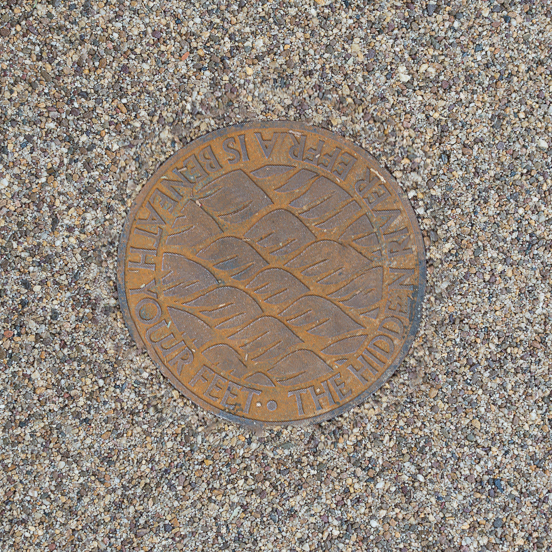 The cast-iron plaques have been left unpainted, in their natural state. When first set in the ground they are a bright rusty orange but with constant wear over time, the detail of the water drawings becomes more apparent.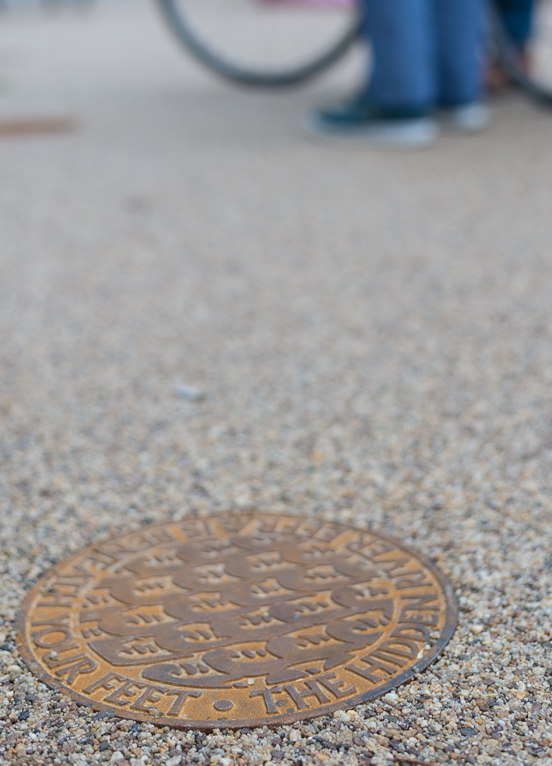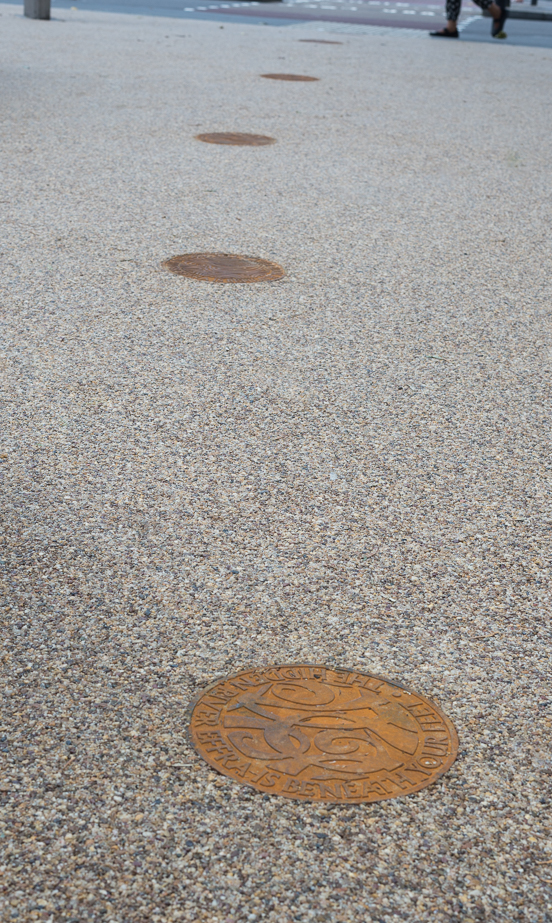 The 'lost' river can now be 'found' and followed a little more easily. In some places just one plaque marks its path. In other places along the route a series of stepping stones tracks the once free-flowing River Effra.



Other Lambeth projects: Triangulating a Circle, Local Knowledge, Street Collaboration, In van Gogh's Footsteps, Hand Lettering Revival