KING'S LECTURES
King's College London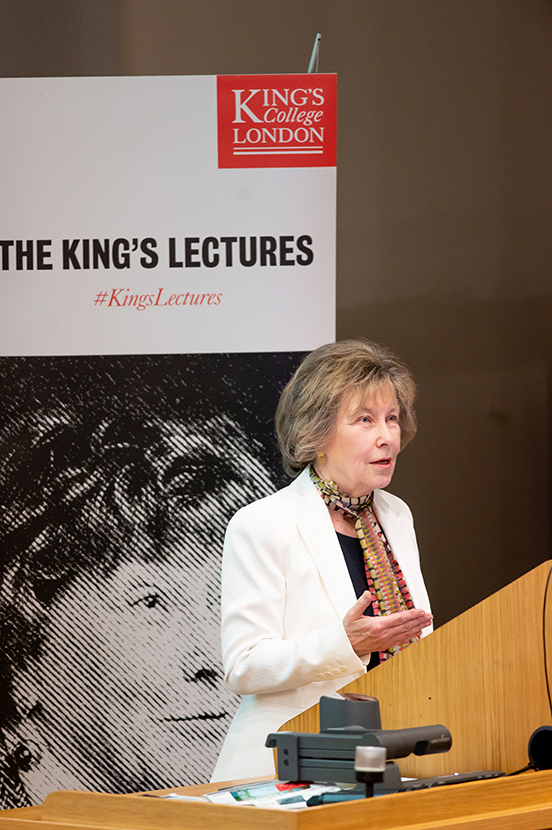 This annual event was inaugurated by King's College London's Principal Professor Sir Ed Byrne. A series of three lectures are delivered each year by a distinguished speaker, addressing current societal concerns. The King's Lectures are a platform to showcase the great thinkers at the world-leading university, to elucidate, to challenge, to make us think and provoke debate. The lectures are open to all as part of the university's policy to connect with communities outside academia and position King's in the mind of the public as a university that has always aimed to make the world a better place.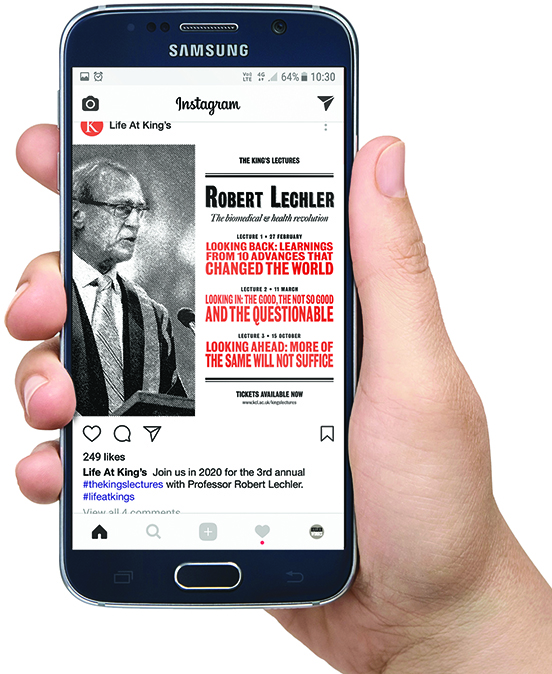 Social media used to promote the lectures.

A distinctive look for this event was needed so that recognition was firmly established over time. Initial promotional communications started with a website and social media presence, followed by save-the-date prompts, invitations, and then printed flyers. As the King's Lecture Series is in three parts and presented at three different campuses, Atelier had to develop a simple and cost-effective solution for dressing each venue. Portable banners with an urgent, 'newsy' presentation were used at each site, and three different lectern fronts were created to announce the subject of each address.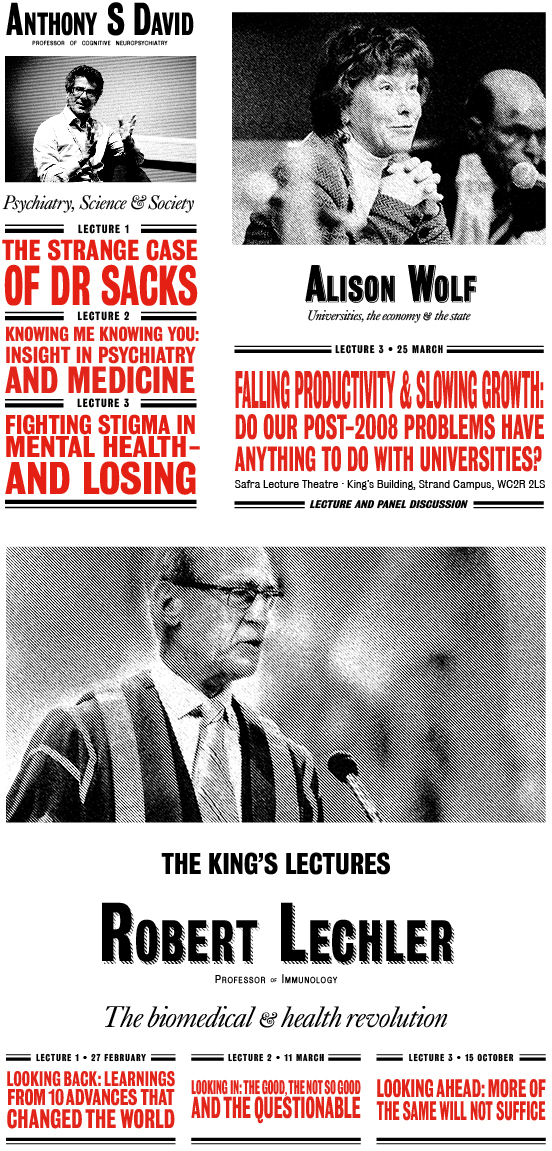 Conscious that these graphics would need to be easily updated each year, Atelier created a bold typographic look reminiscent of a Victorian playbill, allowing the content to shout loudly and the design to be crammed with pertinent information.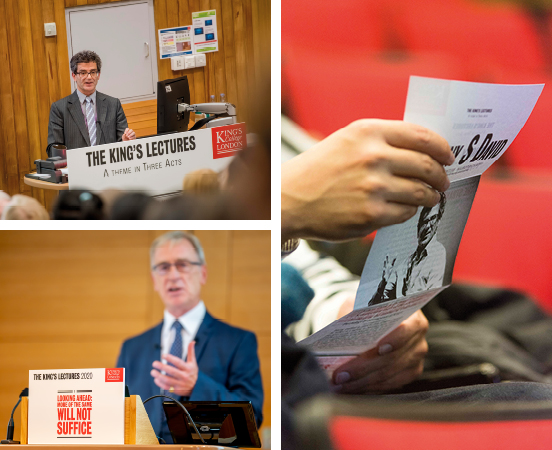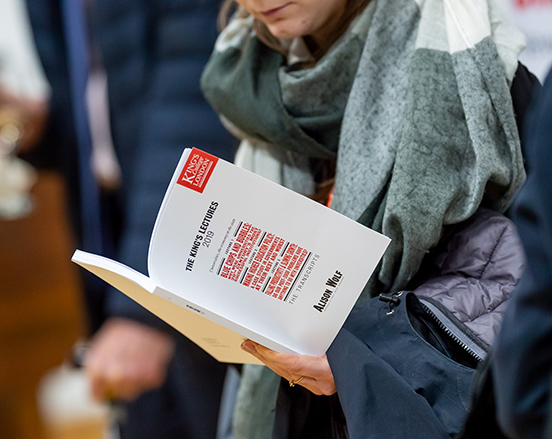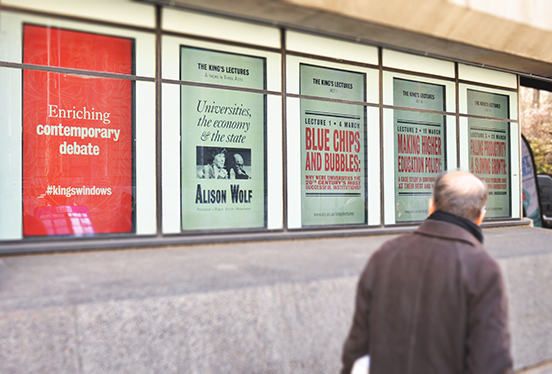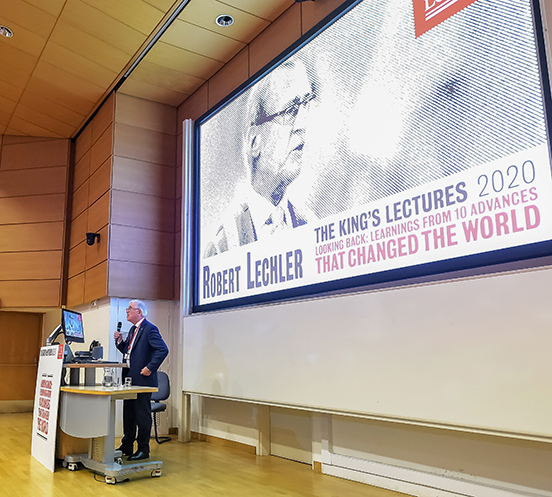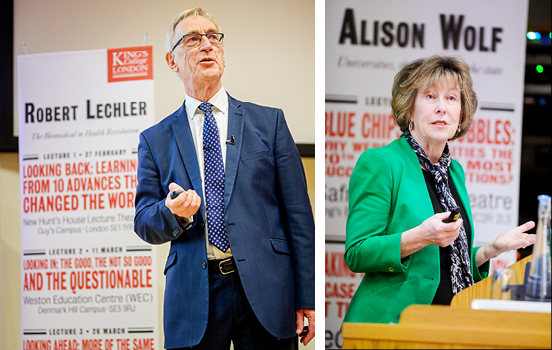 Professor Alison Wolf, Baroness Wolf of Dulwich and Professor Sir Robert Lechler, Senior Vice President/Provost presented the 2019 and 2020 King's Lectures.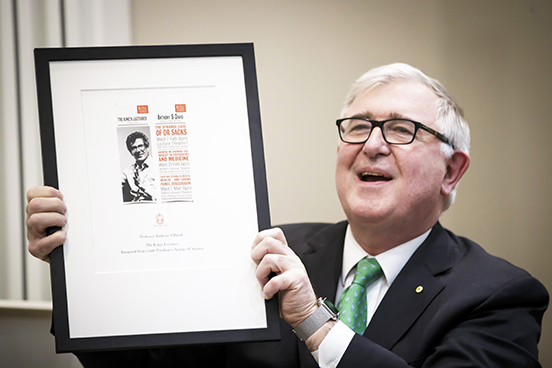 The Principal took quite a shine to the event banners, and asked Atelier to create a 'thank you' memento that he could present to the speakers. A compliment indeed, and we were happy to oblige.

Other King's projects: King's Lectures Transcripts , Ripple Effect , Shoulders of Giants , On the Front Line , Meet the Professors , Making a Difference , Puzzling Moves , University Alumni , University DNA , Selling a University