STAMPS OF COURAGE
Royal Mail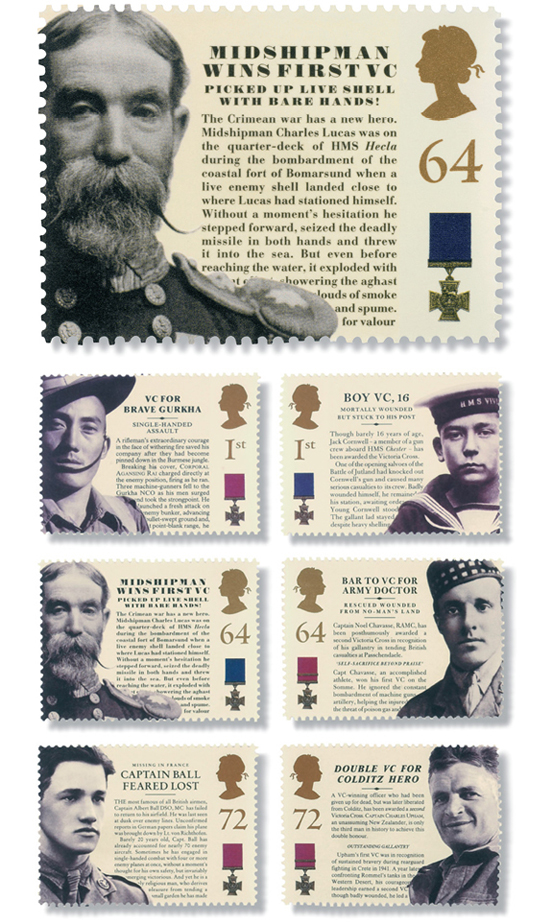 At the bequest of Queen Victoria, a new medal was struck. It was to become known as the Victoria Cross and was first awarded for valour in 1856. The Royal Mail commissioned a set of stamps to mark the 150th anniversary of this honour.
For Atelier, every stamp commission is special, but the stories behind this one surpassed our comprehension. Our initial research took us to newspaper and military archives where we read dispassionate accounts of selfless bravery and courage under fire. It was overwhelming — and we quickly concluded that it was these stories that made the Victoria Cross special.
Working through more than 1,350 VC accounts was impossible, so we sought the assistance of the Victoria Cross and George Cross Association. Working together, we selected a range of candidates that represented a cross-section of the different services, major campaigns, ages and nationalities. Here are some stories to consider:
During the Crimean War, Charles Lucas was a Royal Navy midshipman aboard HMS Hecla. While under fire, a live shell landed on the ship's upper deck. As others took cover, Lucas picked up the shell and threw it overboard. It exploded before hitting the water but Lucas' actions saved the lives of his fellow crewmen.
Noel Chavasse is one of only three servicemen to be awarded the VC twice. As a WWI captain in the Medical Corps, he spent two nights under heavy shell fire searching for wounded in front of enemy trenches. He rescued and saved the lives of some 20 men. A year later, Chavasse was severely wounded while carrying an injured officer to a dressing station. He refused to leave his post and continued bringing more injured soldiers back to the station until he himself collapsed and eventually died of his wounds.
One of the youngest serviceman to be awarded a VC was Jack Cornwell, who at the age of only 16 years old, saw action at the Battle of Jutland during WWI. Despite his exposed forward gun position on board HMS Chester being hit four times and killing all of his fellow gun crew the seriously injured Jack remained at his post, awaiting further orders.
Albert Ball was a WWI flying ace, with 26 combat engagements and 43 enemy planes destroyed. He frequently took on groups of four, five, even six enemy planes while flying alone.
The courageous and tactically brilliant WWII soldier Charles Upham was also awarded the VC twice. The New Zealander led three separate attacks and rescued many wounded under relentless fire in Crete. A year later in Egypt, he was severely wounded during an attack in which he overran two enemy positions, destroyed an enemy tank, and then held his position despite numerous enemy counter-attacks.
Nepalese soldier Agansing Rai was just 24 years old when he led an attack on two enemy positions near the town of Bishenpur in the state of Manipur, India during WWII. Under heavy fire he charged one and took it, then the second. He then went on to tackle an isolated bunker single-handed. The enemy soldiers were so demoralised by his actions that they fled.

"How could we do justice to such heroes on something as small as a postage stamp?" we asked Didy Grahame, Secretary of the VC & GC Association. She replied, "Remember that they all share a genuine humility about their award. Many will say that they were just doing their duty and that they wear the award in memory of those who served alongside them."
As we began to think about the stamp designs we returned to the original clippings and re-read them with even greater respect. We realised that these accounts had to be at the heart of the stamps, so we rewrote the accounts in a compressed form, then reset them in a period style to resemble the old newspaper reports. Images of the VC holders were sourced and graphically manipulated to appear as if printed by a newspaper.
The resulting stamp designs are matter-of-fact, without embellishment, just as they might have looked if they had been mentioned in military despatches.
Stamp format/size: landscape 41mm x 30mm. Print process: lithography. Phosphor: panel. Gum: PVA. Number of stamps: six.



Didy Grahame, Secretary, The Victoria Cross and George Cross Association