SAVING GRACES
Churches Conservation Trust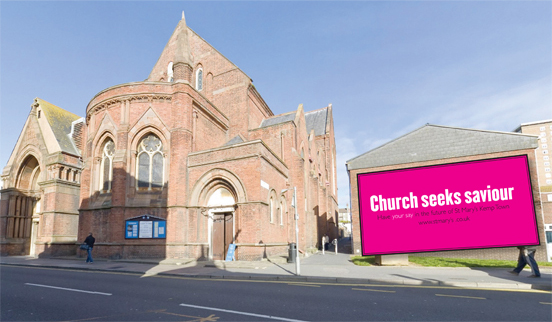 Tasked with saving hundreds of the nations places of worship, the The Churches Conservation Trust tries to find new uses for these valuable pieces of heritage in order to make them relevant to modern needs.
Our brief, a collaboration with architect Mark Hines and writer Mark Irving, was to engage the local community in Brighton and raise awareness about St Mary's Church — a listed building designed by Sir William Emerson — an ex president of the RIBA — and containing one of the best acoustic church organs in Britain.
The catalyst was the opportunity presented by the local carnival, with a week of cultural events. Our idea was to literally turn the church into a giant billboard, using an exaggerated evangelsitic style to appeal to the wit of the local community. Each week in the run up to the carnival, the billboard highlights a different aspect of the church worth saving...