AN UNFOLDING STORY...
Alexandra Zielaskiewicz, designer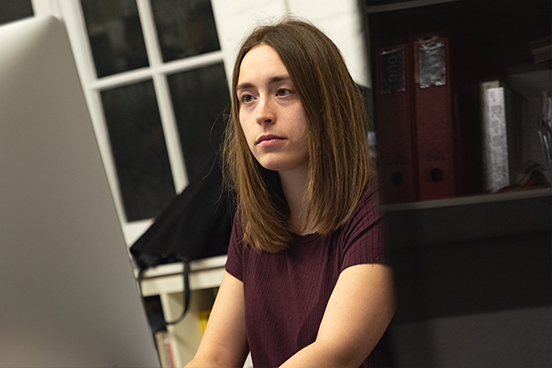 Alexandra studied graphic design at EINA, University Centre of Design and Art of Barcelona. Here, she became interested in the dark arts of branding and set herself on a path to find out more.
From a young age, Alexandra had always been fascinated by the city of London (her parents first met here) and she wanted to live in the English capital. By enrolling at London College of Communication to study for an MA in Graphic Branding and Identity she brought her design and London interests together.
Alexandra successfully completed her MA in 2017 and immediately found employment in the design department of one of London's leading public relations agencies. Here, she was assigned to work on brand development and campaign projects as diverse as banking and contraception. A perfect mix we thought.
The short time that Alexandra has been with us and current client confidentialities mean that we cannot tell you what she has already contributed to Atelier. You'll have to wait a while before we update this page. Suffice to say, she's very, very busy right now.